Psychedelic Conference II in Santa Barbara, 1983
One of the few major psychedelics conferences during the dark age of the "Just Say No" Reagan regime was the Psychedelics and Spirituality Conference (aka Psychedelic Conference II), held on the campus of UC-Santa Barbara on May 13-14, 1983.
The speakers were a "who's who" of drug discoverers and researchers: Albert Hofmann, Humphry Osmond, Ralph Metzner, Alexander Shulgin, Walter Houston Clark, Terence McKenna, Andrew Weil, Carl Ruck and Jonathan Ott.
Timothy Leary, Joan Halifax and Kathleen Harrison (McKenna) were in attendance but did not give formal talks.
Other notables visible in photos: Peter Stafford, Rick Doblin, Deborah Harlow, Robert Forte, John Palmer, Jeremy Tarcher and Shari Lewis.
It was at this conference that Sasha Shulgin announced his discovery of 2C-B and delivered one of his greatest talks, "Drugs of Perception." It was also here that Terence McKenna
(in his brother Dennis' words) "marked his emergence as a public persona with his talk 'Hallucinogens: Monkeys Discover Hyperspace, aka Return to the Logos.'"
Cynthia Palmer (Horowitz), whose ground-breaking anthology
of women's drug writings (Shaman Woman, Mainline Lady, reprinted as Sisters of the Extreme ) had been published the preceding year, attended the conference with her husband and co-editor, Michael Horowitz. Her candid photos of the speakers and conference-goers during a break from their presentations are published here for the first time.
A complete set of the talks delivered at the conference is available on 6 audiocassettes from Soundphotosynthesis.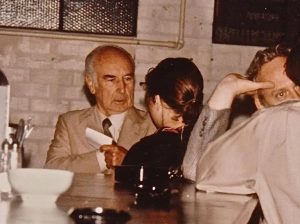 Albert Hofmann in the Cafe.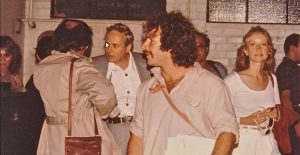 Rick Doblin, center, Deborah Harlow to his left.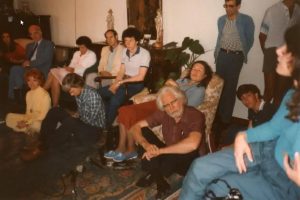 Photo of seated people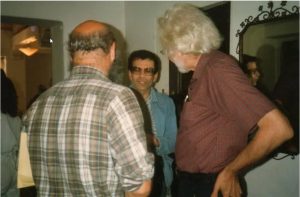 Ann and Sasha Shulgin surrounded by speakers and attendees.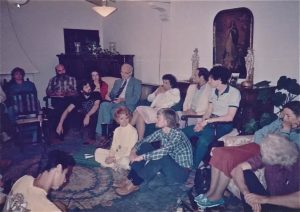 Living room scene From L: Andy Weil, Terence McKenna, Kat Harrison McKenna, Walter Houston Clark, Shari Lewis (Jeremy Tarcher's wife), 2 unidentified, Jonathan Ott, Ann Shulgin, Sasha Shulgin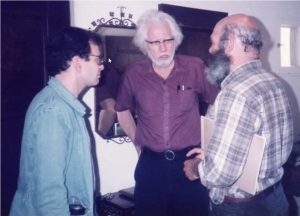 Andy Wail, Michael Horowitz and Sasha Shulgin From left to right: Andy Weil,  Horowitz, Sasha Shulgin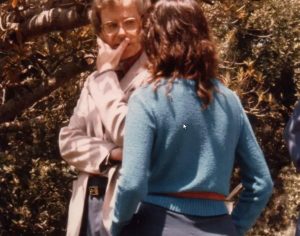 Ralph Metzner, Stephanie Bernstein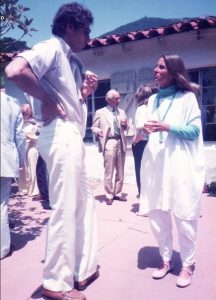 Patio scene with Carl Ruck and Joan Halifax in foreground. Albert Hofmann in the background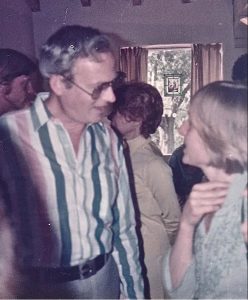 Jeremy Tarcher, Cynthia Palmer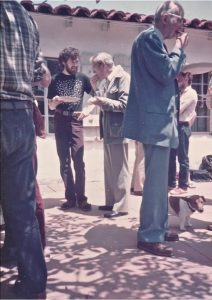 Terence McKenna, Jeremy Tarcher (background), Walter Houston Clark (foreground)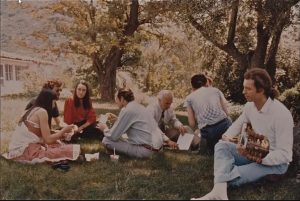 Luminaries on the lawn: Terence McKenna, Kat Harrison (McKenna), Albert Hofmann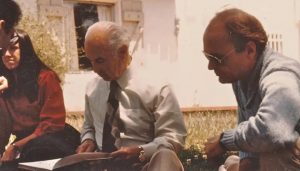 Albert Hofmann inscribing books, with John Palmer.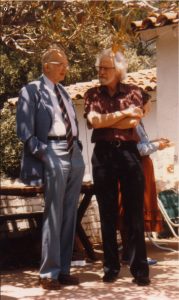 Walter Houston Clark (left) Sasha Shulgin (right)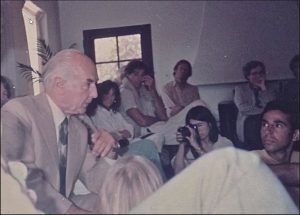 Albert Hofmann with attendees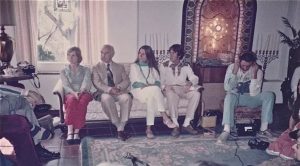 Living room scene From L: Andy Weil, Terence McKenna, Kat Harrison McKenna, Walter Houston Clark, Shari Lewis (Jeremy Tarcher's wife), 2 unidentified, Jonathan Ott, Ann Shulgin, Sasha Shulgin
Living room scene. From Left: Cynthia Palmer, Albert Hofmann, Joan Halifax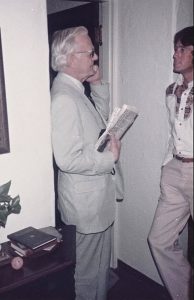 Humphry Osmond (left)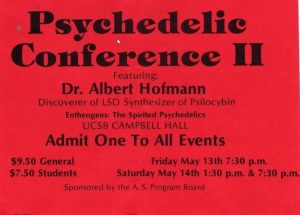 Admission Ticket for Santa Barbara Psychedelic Conference II
Lisa Rein is a film maker currently working on From DeadDrop to
SecureDrop about the anonymous upload submission platform originally developed by Aaron Swartz and Kevin Poulsen. She is a co-founder of Aaron Swartz Day, a co-founder of Creative Commons, a lecturer at San Francisco State University's BECA Department, and the Digital Librarian for the Dr. Timothy Leary Futique Trust.  
Original Source https://boingboing.net/2015/11/24/never-before-published-photos.html
Entheogen-Assisted Healing
Taking entheogens can be like air travel: people do it all the time, it's usually fine, but when it's not fine, it's sometimes very bad. We've been there. And that's where an experienced guide can make the difference in the outcome.
Interested in how to integrate what you learn in your journey? Ask for our Integration Guide PDF booklet.
We offer consultation by phone if you want to ask questions of ANY nature. Or do you know someone who is interested? In either case click the button above to schedule a complimentary call HERE.